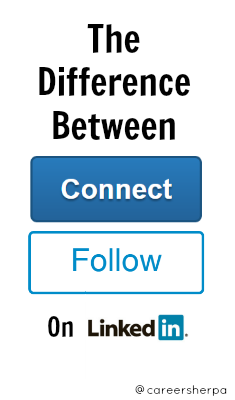 Yes, there is a difference between following and connecting on LinkedIn.
You can see the status updates of someone you do not know on LinkedIn and their long-form posts (LinkedIn's blogging equivalent)- without connecting.
(Note: this is a guest post by Hannah Morgan, aka, the Career Sherpa)
Some LinkedIn Users Won't Connect With Strangers
One of the biggest debates by LinkedIn users is who you should connect with.
LinkedIn says
"We recommend only inviting people you know and trust because 1st-degree connections are given access to the primary email address on your account."
As a result, many users will NOT accept invitations to connect unless they know you. Conversely, some people are LIONS (LinkedIn Open Networkers) and will connect with anyone who invites them.
As you can see, people have different opinions.
If you really want to stay in touch with someone these are a couple of workarounds.
Two Ways to Get Updates and Stay In Touch With Someone On LinkedIn
If you want to connect with someone you don't personally know, try either of these options.
1) Always customize your invitation to connect.
Explain why you are interested in connecting with someone in your customized invitation. It isn't a guarantee that your invitation will be accepted, but it may increase the chances.  Learn how to customize your invitation on LinkedIn's desktop and mobile app.
2) Follow the person on LinkedIn.
This is how LinkedIn describes the differences between following and connecting.
Connections are two-way relationships of trust between people who know each other. If you're connected to someone, you're following them and they're following you by default.

Following allows you to read – right on your homepage – what members are sharing publicly on LinkedIn, including content that they've created such as long-form posts. You can follow someone without being connected to them.
You'll only be able to follow if the person has either written a long-form post or changed their privacy settings to enable updates to be publically follow-able.
Follow Influencers & Media
So if you want to follow some of LinkedIn's Influencers (big name, famous people) click on this link to see who you can follow.
If you want to follow people, who have posted long-form posts, go to their LinkedIn profile, click on one of their posts, and you will see the FOLLOW button.

A sure-fire way to follow someone's public updates on LinkedIn is to go to their profile and click on the down arrow next to the connect button and select the FOLLOW option (if the user has made this available).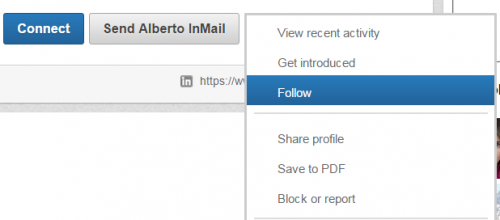 Publishers, Speakers, Business Owners, etc.
If you are a speaker, writer, famous alumni or business owner, you may be receiving a lot of requests to connect. One option is to allow/suggest people follow your public updates- but be sure you change your privacy settings.
LinkedIn's Help Center post Managing Who Can Follow Your Updates explains how:
While your 1st-degree connections automatically follow your updates and long-form posts, anyone can follow you, even if they're not in your network. You can limit followers to only your 1st-degree connections from the Privacy & Settings page.
Move your cursor over your profile photo in the top right of your homepage and select Privacy & Settings.

You may be prompted to sign in.

Under the Privacy Controls section, select Choose who can follow your updates.

Select Everyone or Your Connections.

Everyone – All LinkedIn members, in and outside your network, can follow your updates.
Your connections – Only your 1st-degree connections can follow your updates.

Click Save changes.
How To Handle Requests To Connect From Strangers
In an interesting discussion thread on Facebook, people were discussing how they handle requests from strangers. Some said they send a reply to the invitation, requesting the sender to explain how they know each other or why they want to connect. The response rate to those emails was mixed. As a business owner, accepting invitations from people you don't know may not bother you, these are leads, right? But even LinkedIn is seeing its share of spam accounts, so be aware.
You may choose to send a reply message in which you've copied the instructions above. Your message might also explain your logic for not connecting with people you do not know.
What do you do when people you do not know invite you to connect on LinkedIn without customizing their request?  
This post originally appeared as The Difference Between Following and Connecting on LinkedIn on The Career Sherpa blog on September 8, 2015
Who is Career Sherpa, aka Hannah Morgan?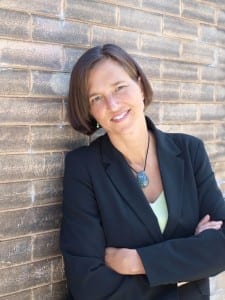 My mission: Guiding new job seekers through the treacherous terrain of job search by providing a map and tools to navigate today's competitive landscape.
My passion: Helping the wandering and lost job seeker to understand how to look for work better.
To learn more visit CareerSherpa.net or feel free to join Hannah on Twitter, Facebook, Google Plus or check out her LinkedIn profile.
Note from Marc Miller:
Hannah and I were listed in the article 50 Great People To Follow On LinkedIn, No Matter Your Industry. This is a great honor but… the flood of LinkedIn connection requests that followed was a bit much.
Like What Your Read? Get Career Pivot Insights
Do You Need Help With ...
Check out our Help Center where you have access to 14 different content portals.